Brain Enhancement Supplements – A Comparison Review
In this post I will be reviewing two brain enhancement supplements. The first supplement came to my attention from a friend of mine who wanted me to check it out for her. She knows that I am a stickler when it comes to All the ingredients in a product; not just the active ingredients. The second brain enhancement supplement is one that I already knew about.  So let's review!
The First Brain Enhancement Supplement Review:
Youthful Brain
Name: Youthful Brain
Website: www.vitalitynow.org
Price: $64.95
Owners: Vitality Now – Dr. Sam
Overall Rank: 2 out of 5
Youthful Brain, Product Overview
Youthful brain is a brain enhancement supplement that includes a variety of herbs and B-12, and is said to clear the "corrosion" from the brain, "like you would from dirty silver", for better cognitive function.
The Good and the Bad
The Good:
PRO #1: The B-12 in Youthful Brain is the best form of B-12. It is the most natural form.
PRO #2: All the herbs are well researched to be good for brain health.
PRO #3: The Bacopa in the Youthful Brain is a prized herb, used in Ayurveda (a medicinal system based in India), for memory.
The Bad:
CON #1: The "other" ingredients. Tablets are the utmost worst form of supplements a person can put in their body. They are loaded with excipients (fillers) and they do not break down easily (see: https://www.ncbi.nlm.nih.gov/pubmed/16849007?dopt=abstractplus). Companies that make tablets are making them in this form because it is the cheapest way to make supplements.
Anybody with dementia, Alzheimer's or digestive issues, should choose more easily digestible supplements. These diseases have a gut/brain connection; where the gut could be causing some of the issues in the brain.  Here's one example, but do further research: https://www.ncbi.nlm.nih.gov/pubmed/24629396 )
CON #2: A high dose of B-12 but no other B's.  B-6 is very important for brain health, as well, and if you are going to include B vitamins, they should "B" included together for the synergistic effect.
CON #3: The price! It sure is a pricey product for a tablet form brain enhancement supplement and the herb amounts being so low.
Who is Youthful Brain For?
Anyone who is wanting to enhance their memory and take a high dose of  vitamin B-12.  So if you are a meat eater, you probably don't need to be taking this supplement.
Decision:
I, personally, would not take this product even if someone gave it to me for free.  I would pass it on to someone who needs a high dose of B-12.
The Second Brain Enhancement Supplement Review: 
Body≈Brain Energy
Name: Body≈Brain Energy
Website: http://shrsl.com/1r291
Price: $49.97 or club price $39.97
Owners: HFL – Dr. Sam Robbins (A different Sam 😀 )
Overall Rank: 4.75 out of 5
Body≈Brain Energy, Product Overview
Body≈Brain Energy is not only a brain enhancement supplement; which includes memory, mental focus and cognition, but the ingredients in

Body≈Brain Energy

are also scientifically proven to enhance brain function, muscle stamina, neural firing, DNA repair, maximizing oxygen usage (very important in dementia and Alzheimer's), cellular energy and detoxification and so much more.
The Good and Bad
The Good:
PRO #1: 21 researched ingredients to boost mind and body and prevent (or slow) the aging process.
PRO #2: 100% Full money back guarantee. Spoiler alert, you won't need it, this brain enhancement supplement works.
PRO #3: I like that it has amino acids (the building blocks of hair, skin, organs, tissues etc.) because the ones that Body≈Brain Energy includes are stress reducers. Ginkgo Biloba is another great herb. I always say, "Ginkgo, Thinko". 😀
PRO #4: A good dosage of herbs, amino acids and antioxidants. You have got to check out the details of their ingredient list (contact me if you can't find it). This brain enhancement supplement works on every level of the body and brain. It's non-GMO, made in the USA, gluten free and vegetarian. Oh and no soy! Yay!
PRO #5:  The price is just right!
The Bad:
CON #1: The "other" ingredient: rice flour. I know it's just rice flour, but I prefer only the capsule ingredients to be the "other" ingredients. I said I was a stickler, and I'm sticking to it!
CON #2: If you take this too late in the day, you could find yourself pulling an all-nighter, but this can be avoided by following the recommend usage.  Don't take after 2pm.
Who is Body≈Brain Energy For?
Me (for sure) and anyone who is looking for, not only, a brain enhancement supplement but a whole body enhancement supplement as well.
Let's Compare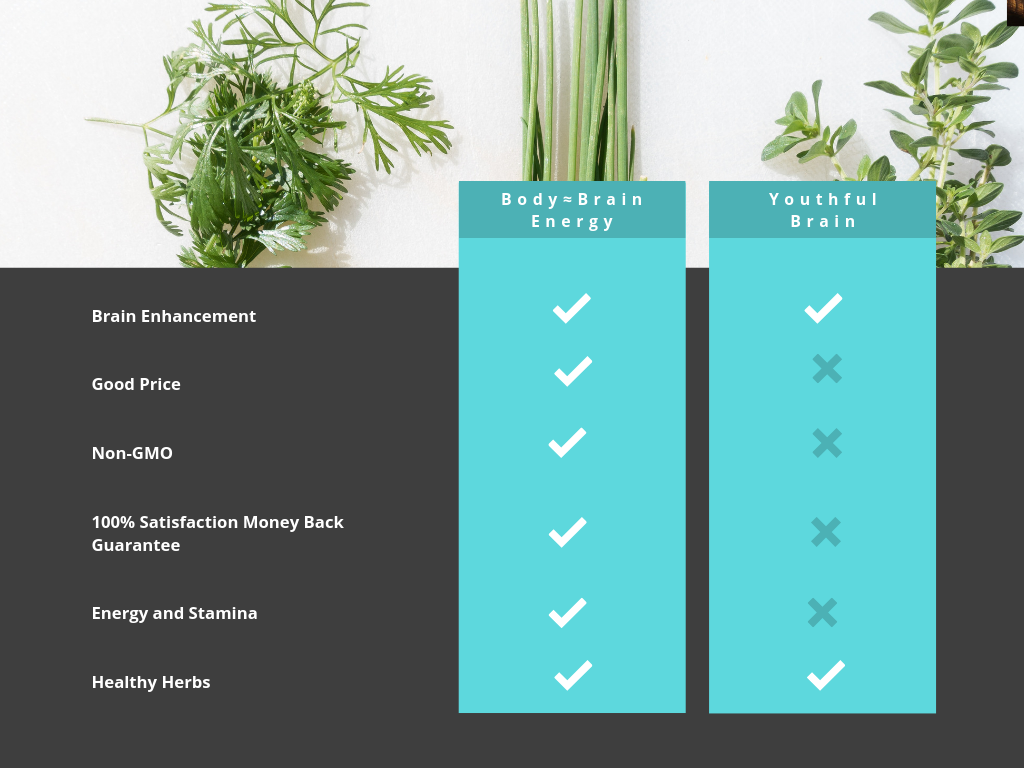 Decision:
I use Body≈Brain Energy and I like it!  I noticed a significant change in my overall balance in just a few days (I'm only taking 1 a day). Like my thoughts are clearer, if I forget something, it quickly comes back to me, and a calm feeling within when things are stressful etc.  I highly recommend you check it out for yourself.  Body≈Brain Energy offers a 100% satisfaction money back guarantee, therefore, you have nothing to lose.
So if you are looking for an excellent whole body, mind and energy supplement, I encourage you to check out Body≈Brain Energy today.  You won't regret it, nor do I!
Please leave your comments/critiques (with tact) below!  I will be glad to hear from you, and will get back with you in a timely manner.
Peace,
Josette
My opinions have not been evaluated by the FDA, so they are just my opinions.